This is an opt-in email newsletter. If you wish to receive newsletters from ProBIRT via email, make sure the "Newsletter" box is checked in your ProBIRT profile.
---
Link to PROBIRT
If you have a website, you can show your visitors your commitment to the craft with your PROBIRT membership. Use one of the new banners to link to PROBIRT from your website. If you maintain and update your own site, it's as easy as copying the code listed below the banner and pasting it onto a web page and uploading the updated page. There are no images to download or mess with. If you have a web development company that does your site, simply direct them to the
banner page
. It is not password protected so they will have access to it.
---
Site Content
With the summer repair season heating up, life becomes a little more hectic. At some point you need to take a few minutes to kick back and relax. When you do this, grab a soda, pull up the PROBIRT website, and take a look at the new content. Several new articles have been added over the past week on the topics of machining and clarinet adjustment and regulation, and there are about 20 more waiting to be added. Classifieds have been posted and there tons of links to help you waste some time during your breather. If you need some mindless entertainment, there are also some great photos in the pictures area. Or, if you've just finished a project you're proud of and would like a virtual pat on the back, stop in and share it with the rest of us.
---
How to Add a Tip
You know the tip you discovered years ago completely by accident…just because the right tool was lying on the bench when you needed it for something it wasn't intended. And you know that product you found advertised in the back of some obscure catalog you were paging through in the dentist's waiting room….the ad you secretly tore out because you didn't have a pencil and pad on you. Well, now is the time to own up to it. Share these tips you've been harboring with your peers in the Tips area of the PROBIRT website. It's easy….

1. Log into PROBIRT
2. Click on the "MyPROBIRT" link that appears in place of the login box
3. Click on "Add New" on the right hand side of the grey Tips bar.
4. Choose a category.
5. If necessary, further choose a specific category.
6. Fill in the form
7. Click "Submit Tip"
OR….you can just
watch a 60 second video
to find out how to add a tip
That's all there is to it.
---
Charter Membership Certificates
Don't forget to download your charter member certificate if you haven't already. See
last week's newsletters
for details.
---
Shop Apron Added to PROBIRT-Wear and Accessories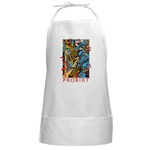 Last week after announcing the availability of PROBIRT-wear, several requests were made for shop aprons. Well, you got it. You can now order
PROBIRT shop aprons
with the cool musical design and two center-stitched bottom compartment pouches for keeping tools handy -
---
Thanks for reading. Send any questions, comments, or suggestions regarding www.probirt.com to probirt@probirt.com.