This is an opt-in email newsletter. If you wish to receive newsletters from ProBIRT via email, make sure the "Newsletter" box is checked in your ProBIRT profile.
ProBIRT Video Tour 2005
The last week of April and the first week of May was devoted to traveling to shops around the country video taping clinics given by fellow ProBIRT members. I logged over 5000 miles,
www.apwatchreplica.com
30 megs on the laptop, and 11 digital video tapes. The entire trip went exactly as planned. All the electronic equipment worked fine (one minor snag on the tripod but it was an operator malfunction!). Got everywhere I needed to be on time. All the hotels were nice (I booked almost all of them on Hotwire.com). No accidents. Only one traffic jam. Weather was awesome! Car putted along fine.
I got to meet some really neat people, make some friends out of acquaintances and see some awesome shops.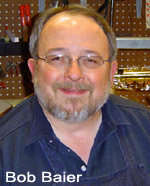 Some of the people you can look forward to seeing in a streaming video clinic on ProBIRT.com website include Neal Anderson, Ian Indorf, Dana Rivard, Larry Mueller, Fred Sullivan, Jeff Dening, Ben Schildgen, and Peter Hart. All of the technicians did a fine job in their clinics. We've got clinics taped for every level of technician - from the basics of trombone slide straightening to clarinet tone hole replacements.
In between shooting videos, I also made arrangements and took time to stop at a couple other places along the way. One place was Bob Baier's shop. Bob Baier is the father of the forum from which the idea of ProBIRT originated. What a neat guy with tons of great stories. While I was there, I presented Bob with a ProBIRT certificate thanking him for his pioneering role in getting repair technicians together online.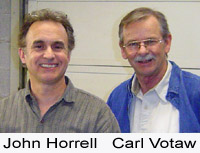 Another stop along the way included the
Votaw Tool Company
in Springfield, Missouri. If you ever get into the area, I highly recommend you drop in. But beware, if you do, you won't want to leave! If you are a machinist or tool junkie, you'll need to take a bib to mop up the drool. If you're not, you'll still be engulfed by the hospitality shown by owner, Carl Votaw, and manager, John Horrell. Stay tuned for an article on the Votaw Tool Company in the near future.
I've spent the last week getting my head above water and trying to make up for the time I was gone. Not quite there yet, but video editing should begin next week, along with a host of other cool things for the site, to include the ProBIRT online store where you can buy ProBIRT apparel and accessories, some new articles and tips, and a faster loading format for the site.
---
Shout Box
The shout box is a public chat room located on the right hand side of most pages of the site. It is meant for quick comments and off-topic banter. If you have repair related questions, tips, articles, ads, etc., please post them in the Forum, Tips, Articles, Classifieds area, respectively.
In order to post to the Shout Box, you need to be registered with your first name followed by your last name as your username (e.g. JoeSchmoe). If this is the case, you will see a white box just below the current shouts where you can enter your text and a button labeled "Shout" next to it. Click the shout button to submit your post. Only the last 25 shouts are retained. As more are added, the oldest posts are automatically deleted.
---
Send any questions, comments, or suggestions regarding
www.probirt.com
to
probirt@probirt.com
.
Thanks for reading,
Michelle Williamson